Published in the Fiji Times "Off the Wall with Padre James Bhagwan," on Fiji Day, Wednesday October 10th, 2012
While some of us are putting up a flag and putting down a lovo, others are squeezing out a mix while wishing they had the money to buy the ingredients for a lovo. My family, under the direction of our great matriarch, Rachel, will spend the morning celebrating Fiji Day with the senior citizens in Samabula. Some will have a day off from work and enjoy a sleep-in in the morning, while others will work in the essential services or out of necessity. Some of us (meaning me) will have to go to class. Regardless of where we are and what we are doing today we commemorate 42 years of independent Fiji.
By "maybe" I do not mean that we do not commemorate the occasion at Albert Park on 10th October, 1970, when Prince Charles handed the (now missing) instruments of independence to the late Ratu Sir Kamisese Mara and when the Union Jack was lowered, the Fiji Flag was raised and the national anthem sung for the first time.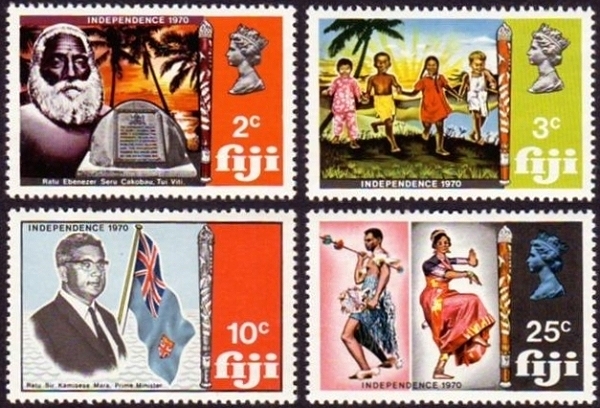 I do not mean that we do not take time to remember the day when leaders of the different faith communities gathered together in mutual respect and tolerance to seek, in their diverse ways, that God would truly grant God's blessings on the "isles of Fiji." I do not mean that we do not relive, through a march from the Suva Flea Market to Albert Park, the excitement of citizens – some adults, many children in their colourful school uniforms – watching history unfold.
What I mean by "maybe" is that while we celebrate 42 years of Independence from Great Britain, we are still struggling to loosen shackles. Shackles of colonialism embedded in our culture, our traditions, our politics, our economics, our society, our history, and our identity. The shackles may be transparent or may look like pretty bracelets or bangles passed down through generations. But they are shackles none the less.
On Sunday, members of the Fiji Community in Korea living in Seoul who were available attended a church service together to mark the beginning of our Fiji Day celebrations. The group included the family of Fiji's first resident Ambassador to South Korea, staff of the Fiji Embassy and Fijians studying in Korea and a few from China.
The service was held at Chungdong First Methodist Church, the first Protestant church in Korea.

Established and started in 1885 by the pioneer American missionary Henry Appenzeller, the church has always been a vital meeting point between East and West and a place where the beauty of diversity is celebrated in God's unity.

I

t also published Korea's first monthly magazine, "Gyohoe," in

1889, with the goal of propagating liberal thought in Korea. Rev. Appenzeller also founded the nearby Pai Chai Boys School, while fellow Methodist missionary Mary Scranton established Ewha Girls School.
We offered a hymn as a way of saying thank you to the community of Chungdong and guest preacher, Rev. Dr. Joseph Robert Dongell (Professor of New Testament Studies at Asbury University) for his inspiring sermon on "The Great Gap". We sang the popular hymn "Au Rai Vei Kemuni" (I need thee every hour).
The gathering at church was significant because it was also World Communion Sunday. For Christians this serves as a reminder that we are part of one body, the body of Christ. For Fijians from different backgrounds, provinces and islands it was reminder that we are one people.
Yesterday (Tuesday) the Fiji Embassy in Seoul commemorated Fiji Day with a Fiji/Korea Investment seminar and a reception in the evening. Today (Wednesday) Fijians based in the coastal city of Busan will be having an informal gathering with Ambassador Kau and Minister for Youth and Sports, Commander Viliame Naupoto.
During the service on Sunday the congregation sang a hymn by Fred Kaan, titled, "For the Healing of the Nations."
Lord, we pray with one accord,
for a just and equal sharing
of the things that earth affords.
To a life of love in action
help us rise and pledge our word.

Lead us forward into freedom,
from despair your world release, t
hat, redeemed from war and hatred,
all may come and go in peace.
Show us how through care and goodness
fear will die and hope increase.

All that kills abundant living,
let it from the earth be banned:
pride of status, race or schooling,
dogmas that obscure your plan.
In our common quest for justice
may we hallow brief life's span.

You, Creator God, have written
your great name on humankind;
for our growing in your likeness
bring the life of Christ to mind;
that by our response and service
earth its destiny may find.
I felt it was an appropriate song, not just for World Communion Sunday, but for our prelude to Fiji Day.
Later as we sat together sharing pizza and then some ice-cream, I looked around at our small group that spanned four decades – men and women, some who remember when Fiji was still a British Colony, some who remember early "independent" Fiji and some who have only known a country shaped by political upheaval. Our differences were lost in the laughter and chatter of a people who were happy to have each other in a strange land.
There will come a time when we put our differences aside and freely make the commitment to join hands and walk together into the future. There will come a time when we recognise and celebrate our interdependence as a people, as a nation. That is when Fiji will truly be an independent country.
"Simplicity, Serenity, Spontaneity"